Speaking Engagements
I regularly speak at various marketing conferences and events. If you'd like me to speak at your next event, please contact me.
To see the slides from my speaking engagements, please see my SlideShare profile.
br>
TOPICS I SPEAK ON:
Content marketing
Outreach/PR
Journalism
Copywriting
Management
Consulting
I also regularly participate in educational videos (and make awesome faces). Here are some examples.
Client Case Study
Rasmussen College
"Distilled is who I call to make my problems go away. They've helped us navigate through an organizational restructure, growing a team and training. Our efforts are soaring, thanks to Distilled."

– Josh Braaten, director of inbound marketing at Rasmussen College
Overview:
Worked with Rasmussen College's inbound marketing team for 2.5+ years to improve its blog channels and explore bigger content marketing opportunities. Project goal was to 1) increase traffic and student inquiries and 2) develop sustainable and scalable internal workflows.

Approach:
Took a 2-part approach. First was focused on internal training and workflows, second was aimed at increasing brand awareness, traffic, and inquiries.
Part 1: Improving internal capabilities and workflows
Spent 9 months training team on effective writing, acting as managing editor for 3–4 months
Helped establish a new content development workflow
Developed weekly brainstorm as a way of training team to think about content strategically and incorporating Rasmussen's existing personas
Once baseline established, split team up into a "blog channel ownership" structure and trained members on effective goal setting
Trained team on effective outreach and blogger partnership strategies
Consulted team manager on effective management tactics and organizational structure
Part 2: Increasing brand awareness, traffic, and student inquiries
Results:
Blog channels
About 86% increase YoY in traffic (up 400% on some individual programmatic blogs)
About 342% increase YoY in student inquiries
Scatter plot visualizing job market competition

Placements on Lifehacker, Big Think, and Alltop
106K+ visits
1.5K social shares
29 student inquiries
Interactive career aptitude test

Placements on TIME, Refinery29, and Mashable
468K+ visits
Earns the most organic traffic behind homepage
3.5K social shares
87 student inquiries
Placements on WSJ, CBS News, and Lifehacker
53.5K+ visits
2K social shares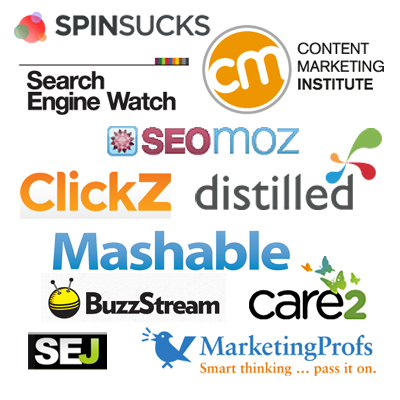 Writing Engagements
I regularly contribute to a wide range of industry publications. If you'd like me to write for your publication, please contact me.
Here are just a few snippets of what I bring to the table. Click on each publication name to see my full user profile and more articles.

MOZ
How to Prevent the 3 Most Common Content Marketing Fails
Kill It In Content Creation by Knowing Your Customer Funnel
The Quick Guide to Developing Customer Personas
The Argument for a Content Audit Your Marketing Team Never Made
Why Hybrid Marketing Agencies Rule the Consulting World